Antonius Holtmann:
No Masterpiece or:
How "Liwwät Böke" Was Adorned With Borrowed Plumes (1999/2001)(1) ,
a little freshened up and complemented in 2012.
Liwwät Böke, 1807-1882: Pioneer. The story of an immigrant pioneer woman and her husband who settled in western

Ohio

as told in her own writings and drawings.

Compiled and edited by Luke B. Knapke. Minster, Ohio: The Minster Historical Society 1987
---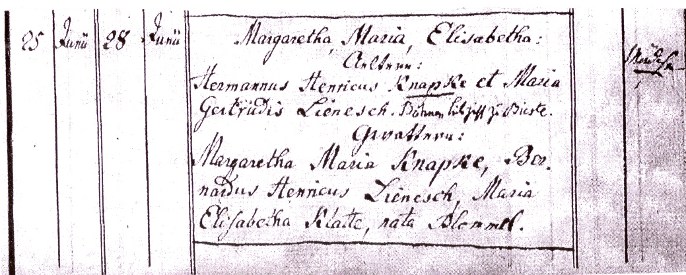 Taufregister zu Liwwät Knapke im Kirchenbuch Nr. 5. Bl. 131 von St. Bonifatius, Neuenkirchen i. O. (1807).
Church Register / Number 5, 131, St. Bonifatius, Neuenkirchen (Oldenburg): Liwwät Knapke (1807).

This book, published in 1987 about a German "pioneer woman" from the Oldenburg Münsterland (Lower Saxony), is really fascinating. Raymond E. Crist of the Department of Geography of the University of Florida in Gainesville recommended that every private and public 'library of Americana' acquire a copy of this "thrilling masterpiece" which familiarizes us with a "creative artist, perceptive writer, a poet in Low and High German, a gifted historian, pioneer, student, wife, mother, grandmother, devoted home maker, midwife, linguist, community spokesperson, neighbor, friend of bishops, gardener and citizen".(2) Eleanor Brucker called it a "rare and unusual work", that was "fascinating to read".(3) Liwwät Böke has been described as "Ohio´s first liberated woman"; John Basking even held the view that "she is more authentic than most of us alive"."(4)

When I had the opportunity to examine some of the texts and drawings in Minster in the summer of 1986, I also was fascinated by the material, and in the spring of 1987 I brought back more than 1000 pages of photocopies - provided by the editor Luke B. Knapke – to Oldenburg (Germany). In the fall of 1987, the English-language edition arrived! Immediately I started to make use of it for instructional purposes in one of my classes. Writings in Low German by an emancipated Catholic woman living in the forests of Ohio in the early 19th century were too tempting to be left in the bookcase and be ignored. Considering the Catholic small-town background of Minster (Ohio) and the Luke Knapke family inspired confidence, so that any doubts about the authenticity of the texts did not arise. To the contrary: the unusual nature of the texts corroborated the outstanding abilities of Liwwät Böke even further. An expert in Low German of the University of Groningen/Netherlands, to whom I had sent some pages of the manuscripts for evaluation ("Tensions with Brunner"), described the text as "astonishing". Although an expert in Northwest German cultural history in Cloppenburg/Germany expressed doubts about the genuineness of the drawings by saying that Liwwät Böke had possibly copied the "Pictures from my Childhood at Home in Nellinghof and Neuenkirchen" from other sources, but he did not question the authenticity of the texts because he assumed that the Minster Historical Society, Luke B. Knapke and I could be trusted.

Marron F. Fort, an American from Ohio and a staff member at the library of Oldenburg University was the first to express serious doubts about the authenticity of the texts (December 1987). By calling attention to some aspects (he did not comment on the genuineness of the drawings) he drew the conclusion that at least major parts of them were not written by Liwwät Böke.

Although the examples he gave raised suspicion, this did not have any consequences. According to Fort the texts, some of which had been written in the USA, contained Anglicisms; the term 'Neuenkirchen' appeared in High German in a Low German text; a writer from a Low German background would have used the Low German term 'Nienkercken'. This is logical but not cogent; the text was allegedly produced in 1834-35, at a time when the city of Wilhelmshaven did not yet exist. However it is marked in the map covering that area; the same applies to West Virginia which came into being during the American Civil War. However, it is possible that Liwwät Böke added the two places later. And in response to Marron F. Fort´s claim that "German Catholics did not discuss sex in the 19th century, and here in Oldenburg, they still don´t", it can be argued that there are always people who are ahead of their time.

Hence it is comprehensible that on January 23, 1988 the Minster Historical Society stated: "To Whom It May Concern: The Trustees of the Minster Historical Society are aware of some controversy apparently originating with one individual, allegedly connected with the University of Oldenburg. The questions, allegations, suggestions and implications involved have been discussed in detail by the Trustees. All are refuted or explained to the complete satisfaction of the Trustees. We must and do accept the Liwwät Böke materials as genuine. (Signature) President, MINSTER HISTORICAL SOCIETY, January 23, 1988)."(5)

Initially I also accepted them as genuine but motivated by Marron F. Fort´s doubts I started to look for discrepancies, and I found many of them. John Baskin commented on the dispute by saying that one observer of the controversial discussion over the authenticity of the texts had described it as "an intramural pissing match" and Baskin pointed out that after a conversation which I had with Luke Knapke in Minster (May 28, 1988), that I had also been convinced of the genuineness of the materials. Luke Knapke is cited as having said: "I think all parties felt relieved and gratified with the understandings gained."

My recollection of this conversation with Luke Knapke is different. For me it was a cautious exchange of views in which no one wanted to hurt the other´s feelings, i.e. the way in which the conversation was held was more important than its content, so that each of us could assume to have convinced the other of his point at least to some degree. To clarify my position, I will comment in the following remarks on those passages in the book, which have been proven to be forgeries or plagiarisms, as well as on those parts which are – more or less strongly - assumed to have been forged.



---
[1]
Antonius Holtmann: Kein Meisterstück oder: Wie "Liwwät Böke" mit fremden Federn geschmückt wurde.
In: Yearbook of German-American Studies 34(1999), 177-195.

-

Antonius Holtmann: No Masterpiece or: How "Liwwät Böke" was Adorned with Borrowed Plumes. Columbus, OH: National Palatines to America 2001 (Pages from the Past, Number 7)

-

See Kathy S. Mason: A Permanent Record After the Author Forgotten: Immigration, Community, and the Writings of Liwwät Böke. In: North West Ohio Quarterly 74 (2002)2, 63-83. Kathy Mason knew my review (1999). She discussed not my arguments (See her note 3.). See also the free adaptation of some parts of the book by Helen Kaverman in the Ohio Delphos Herald (June 2 - July 7, 2008).
---