Antonius Holtmann




In April 1834 Gottfried Weber from Barenau near Engter in the Osnabrueck area went "towards America with little money in his pockets". In 1877 he had written down a 'short description' ("Kurtze beschreibung") of his life in a small leather-bound booklet intended for his nephew in Germany.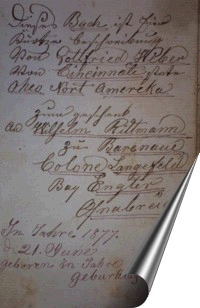 At around 1834 the price of rye fell. This probably had bad implications for Weber's rural employer and thus possibly also for his estate manager.
The price for linen and production costs rose again slightly in the period 1831-1834. Thanks to the Napoleonic Wars the price of linen per 100 m had risen to 28 thalers in 1815. By 1829 the price had dropped to 14 thalers for 100 m of linen and by 1834 the price had again risen slightly to 17 thalers – with a tendency to rise. It can be assumed that G. Weber followed these developments with distrust just as we follow the stock exchange rates.
Compared to the years around 1820 the 'Hollandgängerei' (work as a seasonal worker in The Netherlands on a regual basis ) earned German labourers 50% less in the late 1820. In 1833 they earned as little as 12-16 thalers. According to a report issued by the municipality of Vörden, this was 'very little, even less than in one of the past few years'. Although Weber was not affected by this, it can be assumed that tese developments did not encourage him to stay in a country which could no longer provide for an increasing number of people.
The division of the Marches (around 1800), i.e. the distribution of community in favour of peasants, deprived many tenant farmers of the opportunity to keep some sheep or a cow. This did not affect G. Weber either, however it might have strengthened his decision to leave the country.
In the congregation of Bramsche, for instance, the number of births started to exceed the number of deaths since the middle of the 18th century. This trend increased by the turn of the century. Constantly rising numbers of farmhands, maidservants and tenant farmers entered the rural, still static labor market. Those who did not find an employment as a tenant farmer or who had no roof over their head, were not allowed to get married in the Region of Osnabrück ("Landdrostei Osnabrück"). In 1857 the writer

Fritz Reuter

(from Stavenhagen in Mecklenburg) summed up this situation in "No Home" (

"Kein Hüsung"

) in Low German:
"Heww`n up den Harwst wi noch kein Dack, "If we don't have a roof over our head
Denn treck wie furt mit Sack un Pack, in fall, we will move away with bag and baggage,
Denn treck w` de Kramersdörper nah, and we will take those from Krämersdorf along
Denn gahn wi nah Amerika." we will go to America."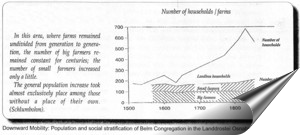 G. Weber did not specify his reasons for emigrating. Purposefully he and his co-travellers from Bohmte and its surroundings set off to Fort Wayne, a small place in the boondocks of north-eastern Indiana where thousands of people found work in channel construction which had just been started.




As early as in 1873 Gottfried Weber purchased a grave for $ 470 for his entire family in Spring Grove and put an obelisk (Greek for 'small skewer') on it which was 20 feet tall and cost $ 1,500. "After death everyone will forget and that is just as well. But I think that I have left [my family] something to remember. Therefore I bought this place and set up a nice tombstone…". In doing so G. Weber had bought himself into the upper middle-class. (

www.springgrove.org/Cemeteries.shtm

>

locate a Loved One > Search By Name: First Name: Gottfried; Second Name: Weber > ID 49338. - Or to the family grave: Search By Location: Garden: Land; Section, 14; Lot: 7)




G. Weber deals rather harshly with his family. He mentions a quarrel with his sons: "When the children were small it was a pleasure having them, when they were men it was a displeasure".He also mentions a quarrel with his wife. She had never been a "support" to him. "What has been a burden, continues to be a burden".






The facts that are presented in the following either did not cross Weber's mind in 1877 or he kept quiet about them for good reasons. We do not know about this.



As regards his tax payments, for example: It must be stated that no trace of them was found in Cincinnati. They may have been lost in the burning of the Hamilton County Courthouse in 1884 when a raging mob stormed the building after a supposed racist judgement in a murder trial had been rendered in favour of a German citizen.

Weber's wedding, for example: On February 27, 1835 Weber married Cathr. Elisabeth Boje who originated from "Herde (?) near Osnabrück". It can be assumed that he already met her in Germany because he married her shortly after his arrival in Cincinnati in St. Johannes, a German Lutheran and Reformed Church. They did not 'have to marry': Their eldest son, Martin, was not born until February 15, 1836.

Weber's founding of a congregation, for example

:

Weber was one of those who founded the Lutheran "Low-German Church" (vernacular), i.e. the "North German Lutheran Church" (Walnut St. / 9. St.; not preserved) that had emerged from the "German Lutheran and Reformed St. Johannes congregation" (Since 1868 Elm St. / 12. St.:

http://maps.google.com >

Satellit > Street View: 1222 Elm St., Cincinnati, Ohio, United States):





"Oh yes, promote German customs!
Neither politics nor religion
Should ever be the warriors' motive to fight
or the matter of discussion.
No, Strengthen close ties!
Happily link them up with your experience!
The shout rings out far and wide all over the country:
Hurrah to the German Pioneer Association!"

("Ja fördert Ihr die deutsche Sitte!
Nicht Politik, nicht Religion
Sei jemals in der Kämpen Mitte
Der Gegenstand der Discussion.
Nein! Festigt enge Bande!
Webt das Erlebte froh hinein!
Weit klingt der Ruf im ganzen Lande:
Hoch deutschem Pionierverein!")



Weber's American version of the "Song from America" ("Lied aus Amerika"), for example:

In 1875 Weber read out the "Song from America" to the Pioneer Association (online):

"Hail to Columbus, be praised,
Be greatly honored for ever!
You showed us a way which can free us
From severe bondage, if we dare
To renounce our home country."


("Heil Dir Columbus, sei gepriesen,
Sei hoch gelobt in Ewigkeit!
Du hast uns einen Weg gewiesen,
Der uns aus harter Dienstbarkeit
Erretten kann, wenn man es wagt
Und seinem Vaterland entsagt.")




G. Weber chose to cover other topics in his "short description" ("Kurtze beschreibung") and emphasized other aspects than those stressed in the obituary about him which the German Pioneer Association published in 1890, at a time when "Der Deutsche Pionier" no longer appeared on a monthly basis but was issued as a yearbook ("Vorstandsbericht").



Martin Gottfried Weber
1803 - 1890

How modest the late pioneer Manfred Gottfried Weber was may be derived from the fact that only few people knew something about his life course and yet hundreds of them experienced proofs of his philantropy. Mr. Weber was charitable in the truest sense of the word. The right and gave and the left hand didn't know and he tried to keep his benevolence a secret. It sufficed him to know that he had done good and to have made others happy.
Manfred Gottfried Weber was born in Hannover on 21. June 1803; later on he attended primary school ("Volksschule") and in 1821 he went to Cincinnati. At first he worked on the Miami Canal and in Fort Wayne and for a long time he had to live on a wage of 50 cents per day. The hard work he did made him sick but eventually the patient' his strong constitution prevailed. Barely recovered he returned to Cincinnati where he found a more profitable job and in May 1835 he married Miss Elisabeth Boeser. Three sons issued from this happy marriage, one of whom preceded his father in death in 1886.
At first Mr. Weber found a job at Schönberger's hardware store where he worked for 20 years. Then he moved to a farm on Baltimore Pike where he lived for five years. After this time he returned to Cincinnati where he set up his own hardware store on Main [Street] near Ninth Street, together with J.N. Newman. This occurred in the year 1862.
Four years later he bought Newman's share of the company, associated with one of his sons and after another ten years he completely retired from business. The 2 sons who survived him managed the business, which was still located in the same place and they were quite successful.
In 1883 Mr. Weber celebrated his Golden Wedding Anniversary which was a rare occasion at the time. After a short illness he died on 29. September 1890 and the Pioneer Association paid him their last respects. In his younger years he was an avid member of the old fire-brigade department and continued to be a member until the present department was set up. Mr. Weber ws one of its founders and he was the first long-term treasurer of the Pioneer Association.

(Vorstandsbericht des Deutschen Pionier-Vereins 23 (1890/91), 16; translation)



Different pictures are painted although the same data were used. It seems that in retrospect but also by lack of knowledge many things were distorted. As regards the time of Weber's emigration (1834, and not 1821!), for instance, he did not go first to Cincinnati, but to Fort Wayne. And he married in February 1835 and not in May of that year (Family register, St. Paul, 1845). The maiden name of his wife-to-be was not Boeser but Boje. And it was not a happy marriage tie. And his service of a firefighter lasted only from January 1844 to April 1846. He was "afflicted with a disease in his chest" (Cincinnati Museum Center).



I wrote this report to point out how important it is to produce one's own reconstructions – with the subjunctive tense at the back of one's mind – sot that they can be used as a genealogical

'reservatio mentalis'.





[This delivery, now revised in 2010, has been published first in: Die Maus, Gesellschaft für Familienforschung e. V. (Hg.): Genealogie und Auswanderung: Über Bremen in die Welt; Grußworte und Vorträge zum 54. Deutschen Genealogentag in Bremen. Clausthal-Zellerfeld: Papierflieger 2002, 59-70. The version of 2002 is available online:

www.genealogienetz.de/vereine/maus/blaetter/dgt2002_seite_59-70.pdf

.

Documents, which belong to this outline, are in the Research Center German Emigrants in the USA (DAUSA). The "Kurtze beschreibung", with an introduction, profusely illustrated and with many notes, will be published in the not-to-distant future. - Sabine Osterkamp, Oldenburg University, translated this delivery.]
---